Read in : தமிழ்
Monisha, a techie mom in the US, uses the Montessori method but in Tamil medium to train her two-year-old girl child. Monisha, who grew up in Nagercoil and now works in Microsoft, is keen that her child gets the best of modern learning in her mother tongue. Monisha has written two books following the Tamil Montessori, especially keeping her daughter in mind.
Monisha studied up to Class 12 in Nagercoil and moved to Chennai to study engineering. She formally enrolled at the AMI institute and got herself trained in Montessori teaching.
Monisha left for the US after marriage where she studied MBA at Washington University. She is now working in Microsoft along with her husband.
Monisha wanted to give Montessori education to her child but she wanted to teach in Tamil medium.
In Montessori, children are taught as per their nature. Developed by Maria Montessori, an Italian physician and educationist, the system adapts to the social development level, the child's psychological profile, as well as to the child physicality.
Montessori believes that if a person lives a life integrated with nature until 24 years of age, then he or she becomes a fully developed individual. Montessori institutes are there to train children up to 12 years of age. Only a few go up to 24 years. Some 2 lakh schools across the world follow the Montessori method.
Monisha disputes the idea that Montessori is expensive. She says mothers can use the method to teach their children as per their needs.
There are no classes in the method. Children are not compelled to write in a certain way or read in a certain way. There are no tests, no time-bound classes or periods either. "We would keep things that a six-year child can pick up from a basket. Depending on what the child picks up, the teacher will guide the child. Children don't learn what teachers teach. Teachers teach as per the likes of children. Through this children get the confidence and skill to choose right. From the beginning, at three years of age, instead of pencils, play objects are given that can be held by the child. While playing with the object or while solving a problem, their mind and body develop," explains Monisha.
Monisha teaches her two-year-old daughter at home using the Montessori method. "
After work, if I am cooking at home, my child helps me with the work. Most parents know only about classroom teaching. They don't know that cooking, helping in the garden, and doing small tasks at home make for good education too," she says.
"We don't get idly, dosa and chapatti often here in the US. I am teaching my child about traditional foods. She picks up the batter and has an idea of what shape the dosa should be, the name and so on. She then tries to do as much as she can. She gets a chance to experience all our traditional festivals and our culture. All these are there in Montessori. I am keen that she grows in a Tamil cultural milieu. That's why I am teaching her in the Tamil Montessori method," says Monisha.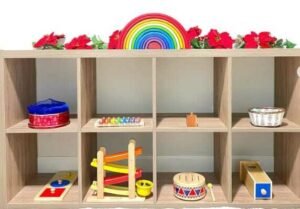 Since it's hard to get books in Tamil in the US for children, Monisha has written two books herself. Vazhai Ilai Virundhi (Banana Leaf Feast) talks about food habits while Pongalo Pongal teaches Math in Tamil. The books are available on Amazon as well as online in Singapore, US and Malaysia. Many mothers have told Monisha her books have helped them, she says.
Mothers who saw her posts on Instagram and Facebook have been trying to use the same methods to raise their children, she says. The development of a child can be facilitated from two years of age. Montessori education can be given from that age up to six, she says. "If a child is trained in the Montessori method, they learn to care for others, be responsible, and also be able to make clear decisions later in life," says Monisha.
(Those who want to reach Monisha can email her at tamilmontessori@gmail.com)
Read in : தமிழ்