Read in : தமிழ்
The appellation 'kutti' in Tamil conjures up images of lovable young children and animals and it is perhaps fitting that a mini-truck called "Kutti Yannai" has endeared itself to many businesses and small enterprises across Tamilnadu. From hauling tonnes of goods across the State to being a transporter's best friend, the Tata Ace has become an integral part of business operations since it launch in 2005.
While the Kutti Yannai has remained a faithful companion to small businesses for over 15 years since its launch in 2005, it has grown up too — this year Tata Motors launched the electric version of the mini-truck.
Haathi mera Saathi
Branded the 'Chota Haathi' across India by the automotive giant, the ubiquitous mini-truck was labeled 'Kutti Yaanai' in Tamilnadu. And many still recall with nostalgia the Tata Ace advertisement that showed up on television back in 2005.
From helping people move house to carrying the delicate but much needed clay pots during summer, towing recalcitrant two-wheelers to carrying goods, the mini-truck has carved an unassailable space for itself.  Several logistics companies as well as commercial vehicle rental companies in and around Chennai have lavished praise on the vehicle and adopted the Kutti Yannai name. The #KuttiYanai hashtag has also made its way across all social media platforms. Some to show their respect to the Tata Ace, some to market their Tata Ace and others to be a part of the admiration.
For a majority of the commercial mini-truck owners, this Kutti Yaanai sparks a 'Haathi mere saathi' bond.
There are several instances where the Tata Ace was sold under the Kutti Yaanai tag. Recently a colleague found this on QuikrCars.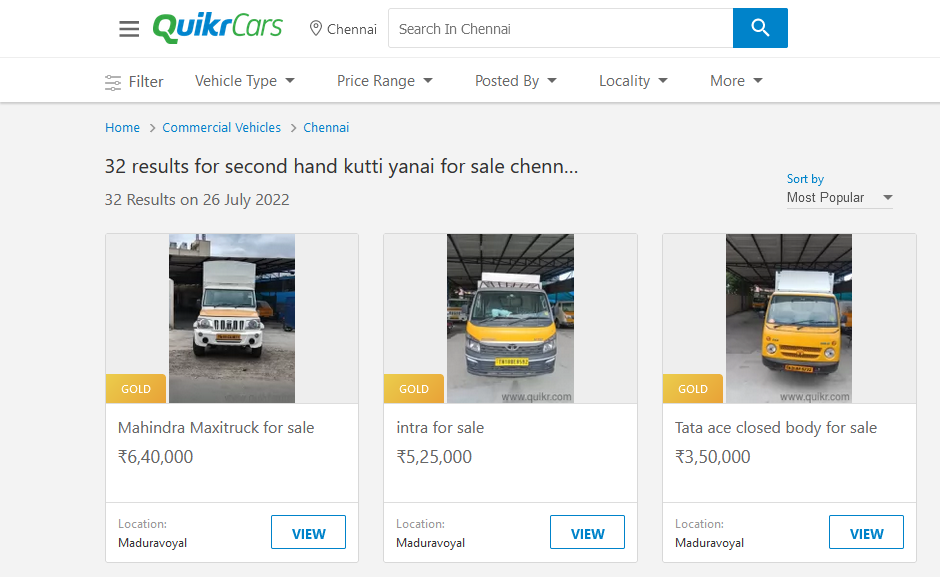 Another instance on OLX was this offer:
Engineering excellence
The credit for the truck's universal acceptance is its excellent hauling ability. The high torque engine could perform its own miracles in the mini-truck platform. The original Kutti Yaanai could produce a torque of 45 Nm (diesel) at 2,000 RPM and 55 Nm (petrol) at 2,500 RPM which made it haul the payload. The recent Tata Ace Gold HT Plus made a whopping 85 Nm torque at 2,750 RPM and had a gradeability (effective climb angle) of 36 degrees.
Tata has claimed that the many variants of Ace could carry goods in excess of the vehicle's weight. Though the company promises the mini-truck can carry upto 750 kilograms of load, we all know at least one Tata Ace owner/driver who could fit a tonne on this mini-truck and still deliver the goods safely.
The recently launched Tata Ace Mint can actually carry a tonne with its bigger engine, however it just doesn't give the same vibe as the original Tata Ace.
From helping people move house to carrying the delicate but much needed clay pots during summer, towing recalcitrant two-wheelers to carrying goods, the mini-truck has carved an unassailable space for itself
Apart from that, the later versions were fitted with cabin ACs so that drivers could move stuff without breaking a sweat. The unique exhaust-note of the Tata Ace also made a statement among the commercial movers segment.
Kutti Yaanai goes green
The new Tata Ace EV launched in May 2022 gave a new meaning to sustainable mobility in the Small Commercial Vehicle (SCV) segment. This electric Kutti Yaanai is a zero-emission offering from Tata with smart features. It has a certified range of 154 kilometers which makes it ideal for intra-city conveyance. With this range, the EV could still deliver goods to Chennai's satellite towns like Thirumazhisai, Minjur, Tiruvallur and even far off towns of Kanchipuram and Chengalpet.
Also Read: 
As Tesla skips India, TN could be base for Chinese automaker BYD 
Ambassador electric: Will TN help revive the classic?
The Tata Ace EV is also built to endure rainy weather with its IP67 rated water and dust proof powertrain. As per the release update, almost everything inside the cabin will be fully digital except a few knobs, levers and buttons. Tata has made a statement in their product note that a charging infrastructure solution will be provided for easy and safe charging. Connectivity solutions will be provided with live monitoring through a dedicated command centre.
Although the payload weight has decreased from 750 to 600 kilograms, the EV will still be the cheaper alternative to run the distance. The gradeability of 22 degrees is more or less, the same as the original Ace.
Moreover, the Ace EV has regenerative braking feature that regenerates power while braking, coasting and driving downhill. The fast charging option charges the battery from 10% to 80% in 105 minutes (little less than two hours). The regular charging option takes about 7 hours to charge from 20% to 100%.
Overall, the new electric Kutti Yaanai points to sustainable commercial mobility. The silent new Kutti Yannai will drive businesses into a zero-emission future much like its older predecessors revamped the way India moved its goods.
Read in : தமிழ்