Read in : தமிழ்
Leader of Naam Tamilar Katchi Seeman has acquired a small but youthful support base in parts of Tamil Nadu with his Tamil nationalist platform. In this Q&A with inmathi.com, he fields questions on his political beliefs.
As a Tamil nationalist, how do you see India's Independence Day? 
Tamil nationalists are not from another planet. Independence Day is there to celebrate freedom from British rule. It is a freedom we got after a struggle. Bhagat Singh had proclaimed that in his dream India, no child would cry for milk, no student would need to long for education, and no youth should hunt for jobs. Have these dreams been realized in the last 70 years. Even today, we are talking about housing for all and rural electrification by 2022. Is this freedom?
So is India not free then?
They have handed over education, health, electricity, transport, manufacturing, drinking water supply, as well as road laying and maintenance to private capitalists. Then how is that freedom? When India was under British rule, there was some space for struggle. In free India, there is no space to even talk. There is no space to express alternative opinion. Inside this freedom, we are fighting for true freedom against corruption, hunger, murder, theft, caste, religion, untouchability etc.
In the past, we were subjugated by one country. Now we have been subjugated by many countries. All the countries are coming here to loot our resources. Today fraudsters like Nirav Modi, Mehl Choksi and Vijay Mallya escape to abroad without any hurdle. Balu, a farmer from orathanaadu, who took a bank loan to buy a tractor was beaten up.
Who are true Tamils?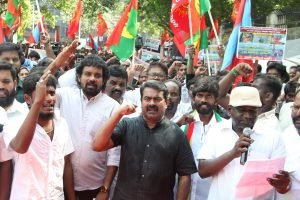 All of India is Tamil land. Ambedkar has said that those who considered Tamil as mother tongue were spread all over the country.
Are Brahmins Tamils? 
See, in matrimonial ads, they say Tamil Brahmins. Doesn't that mean they consider themselves Tamils. Is there a Tamil who can surpass Subramaniya Bharathi? Everyone has Tamil ancestry in India.
After the death of Jayalalithaa, Karunanidhi, can Dravidian politics sustain? 
Dravidam is an imaginary concept. On the basis of opposing Brahminism, they said all Dravidians are the same. But does any other state besides Tamil Nadu talk about Dravidians? When politics is there in the name of Kannadigas, Telugus and Malayalis, why can't there be Tamil nationalism. Tamil language has been there long before India was there. Where did Dravidam come in this? DMK's slogan of self-governance at state and collective rule at Centre was an empty shout. If they have such slogans but join hands with national parties [unitary parties], what is the use? And what have they achieved? Tamil nationalism is for all parties in the state to unite and function.
Isn't Tamil nationalism a movement that belongs only to intermediate castes? When you talk about all Tamils, doesn't that ignore oppression of Dalits? 
We have said very clearly that only when native Tamils are liberated, other Tamils can be liberated. We are all Tamils. Only people like director Pa Ranjith think Dalit is an exclusive identity.
Isn't the support for Eelam cause diminishing in Tamil Nadu? 
Today, it has become a crime to speak for Eelam Tamils. I speak for Eelam Tamils even though I have got a bad name for doing so. I am portrayed as anti-Indian if I take up their cause. India has supported the creation of Bangladesh but does not support separate Tamil Eelam in Sri Lanka. That is because India does not care for Tamils. Just like Tamils in Sri Lanka were forced to demand Eelam, Tamils in India may be forced to ask for separate nation.
What are your plans for the Lok Sabha election? 
We will not go with any unitary party (Congress, BJP) or Dravidian party. Besides these, we will ally with other parties. PMK has said Tamil nationalism is a narrow concept. So we won't join hands with them.
Read in : தமிழ்