Read in : தமிழ்
In history, rarely, we find a phenomenon like DMK President Kalaingar M. Karunanidhi. For some the left brain would be dominant and for others the right brain. Kalaingar Karunanidhi was an exception to this. For him, both sides were equally strong. Be it logical thinking in running the government and administration of party or creative abilities in scripting literature he was exceptionally brilliant. In any chosen field — literature, administration, film industry and journalism — he always stood out and gave his best. The impact of his achievements paved the way for thousands of people to follow him and excel like him, in art and literature. In a way, the Dravidian movement was a powerhouse producing connoisseurs in various fields.
With innovation in mind and fire in his belly, imbibed with smart fighting spirits he sailed through all odds throughout his life. As a fourteen-year-old boy he gathered a group of boys and marched on the streets of Thirukuvualai in Thiruvaarur to protest against Hindi and marked his arrival in the social and political arena of Tamil Nadu. Initially he was a disciple of Periyar EVR and subsequently moved out with Anna.
When DMK was formed in 1949 he was not one of those forefront leaders. Yet, he quickly ascended to the pinnacle of success because of his ingenuity and tenacity. When DMK founder Anna passed away, many thought the second in line Nedunchezhian would be the choice. But, destiny had different things in store in the form of Karunanidhi. Mere position two was not enough for Nedunchezhian to propel himself to higher orbits of power. It required some thrust to reach escape velocity, which Kalaingar Karunanidhi possessed.
He seized every opportunity to implement the ideals of Periyar in his own inimitable way. For the first time a scheduled caste candidate was appointed as a judge at a High Court in India, in Madras at the behest of Karunanidhi-ruled DMK.
Karunanidhi was a shrewd person. During the Emergency, many DMK cadres were arrested. But the list of people arrested was not allowed to be published in the newspaper due to press censorship. On Feb 3, which was Anna Memorial Day, the DMK's official organ Murasoli published the list of people who would not attend the homage, indirectly indicating to the cadres the names of people who were arrested.
Many experts in the Tamil industry unanimously agree on the point that it was Parasakthi penned by Kalaingar Karunanidhi that changed the trend in Tamil film industry. He expressed many rationalistic ideas through the dialogue he penned for the hero, Sivaji Ganesan. One of the striking dialogues was on rehabilitation of beggars through the voice of veteran actor S.S. Rajendran. Later when Kalaignar Karunanidhi became chief minister of the state he brought out a beggars rehabilitation scheme.
One of Periyar's unfulfilled wish at the time of his demise was that priests, regardless of castes, should be appointed in temples. Karunanidhi brought a law for appointment of archagas from all communities. After prolonged litigations in Court, the first non-brahmin priest was appointed in a temple just a few days before his demise. It was a small step towards a giant leap in the eradication of caste. Other ideologies of Dravidian movementwere implemented whenever DMK came into power.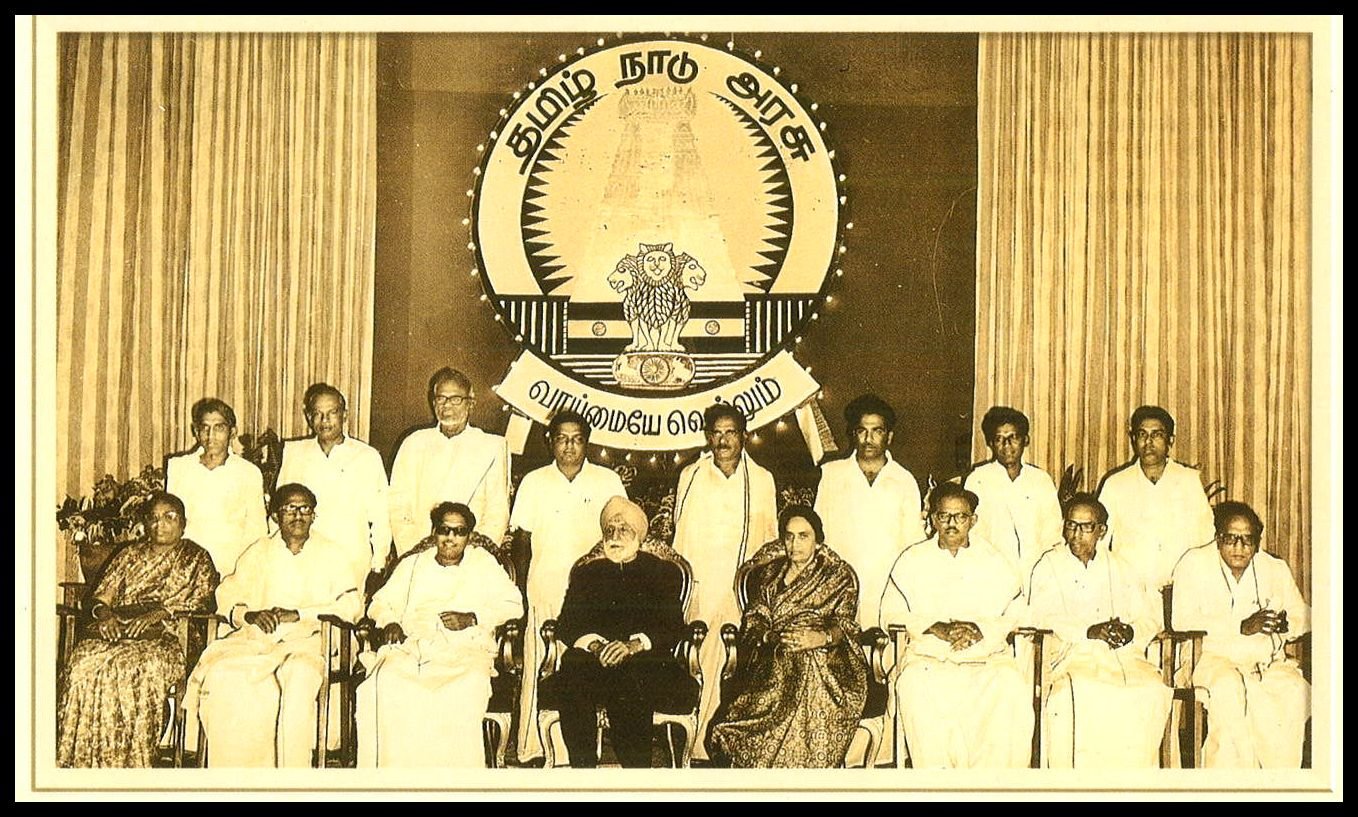 The Periyar Memorial Samathuvapuram scheme was a visionary project that envisaged the construction of more than 100 villages in which people of all castes could co-exist peacefully. Each village houses about 100 families, of which 40 are Dalits. This was unique and well appreciated by sociologists. Dravidian leaders championed small families and the state's successful population control efforts stemmed from it. Even before the Central Government talked about family planning program, Tamil Nadu was a forerunner in the implementation of the same.  The slum clearance board was another unique project, carried out by the DMK government in the early 70s. Abolition of cycle rickshaws was a milestone in his social reform activities. Nationalisation of transport was another significant move.
Tamil Nadu boasts today of being progressive in terms of two vital parameters, health and education. This is largely due to the work of the DMK. They laid the foundation for modern Tamil Nadu. Of the 24 medical colleges, most were started by the DMK government.
Challenges and adverse conditions never deterred Karunanidhi. He adjusted his sails to the wind and converted every challenge into an opportunity. Whether the party was out of power (for 13 years) or had a vertical split (faced twice), he brilliantly handled the situation. He always looked at the positive side of any calamity. For example, when MGR passed away, the city of Chennai witnessed unprecedented anti-social activities and that led to riots and commotion. A young man climbed on the pedestal of the statue of Karunanidhi and demolished it with a crowbar and broke the statue into two pieces. After a couple of days, in Murasoli, on the first page, Karunanidhi penned a poem on a positive note stating that the younger brother had hit him, but thankfully on his chest, not on his back.
One of the biggest hurdles the DMK crossed during their long history was the Emergency imposed in India. DMK suffered the most at that time and it was seen as an opportunity to wipe out the DMK party. Yet, Karunanidhi, with his outstanding leadership, steered the party brilliantly and saved it. Three years later, Indira Gandhi came to forge an alliance with the DMK which was a testimony to Kalaingar's statesmanship.
Link roads to all villages with a minimum population of 1,500 people and farmers market were some of his unique social welfare programmes.
Be it equal property rights for women or be it 30% of reservation for women in government jobs — crucial milestones in the journey of the social justice movement in Tamil Nadu — were accomplished by Kalaignar Karunanidhi. Financial assistance to widows and to couples of inter-caste marriage are other progressive measures.
In terms of reservation for the socially backward, Tamil Nadu is a pioneer in the country. The reform started in 1920s, and has a long history. Karunanidhi played a pivotal role in setting up the first backward class commission in TN. He carved out the most backward classes category and provided exclusive reservation for them; similarly, for the Arunthathiyars; for Muslims he offered exclusive reservation. The DMK along with the DK played a major role in compelling the central government to implement the Mandal Commission recommendations for reservation in the central government jobs.
Construction of memorials, edifices, monuments and commemorations for historical and other Tamil legends were the hallmark of DMK rule. Karunanidhi was passionate about decorating the state with beautiful buildings. Poompuhar, Valluvar Kottam, memorials for many leaders, Chemmozhi Poonga and Anna Centenary library at Chennai and so on. The 133 feet of Thiruvalluvar statue is a landmark at the southern tip of the sub-continent, a remarkable one with Thiruvalluvar looking at India with pride. Similarly, the first flyover in the country was constructed at Chennai. Asia's largest bus station at Koyambedu was his brain child, so was the metro rail for Chennai. If Chennai can boast of most flyovers in the country, it was the work of DMK governments.
With the opening of the economy and globalisation in 90s, the Kalaingar-led DMK government capitalised the most with a huge chunk of engineering graduates who passed out of colleges. Opening Tidel Park, among the largest IT parks in India, was a significant move. In the core industries such as automobiles, Tamil Nadu has marched way ahead of other states thanks to his proactive measures.
While we mourn his loss, we have so much to celebrate too.
(The author is vice president, Tamil Nadu Rationalist Writers Forum)
Read in : தமிழ்