Read in : தமிழ்
Nallur Sa Saravanan, president of Saiva Siddhanta Perumandram and the head of the Department of Saiva Siddhantam in the University of Madras, has come under threat from militant Hindutva groups for his views on Saivite philosophy.
This Saiva Siddhanta Maha Samajam (Saiva Siddhanta Perumandram) was founded by Siva Shanmuga Meyyngyana Sivacharya Swamigal (Gnyaniyar Adigal), the head of the fifth order of Thirukkovalur Adeenam, in 1905. The Sivacharya Swamigal released the first issue of Periyar's 'Kudiyarasu' magazine. Many Saivite and Tamil scholars including Maraimalai Adigal have been part of the administrative set up of this society. This institution has been publishing the magazine 'Siddhantham' (Ideology) based on research done on Saivaite religion, and also other research works.
The Saiva Siddhantha Perumandram recently published the book 'Manickavasagar–Kaalamum, Karuththum' ('The times and thoughts of saint Manickavasagar') written by archaeologist R. Padmavathi. Claiming that some views expressed in that book and a few points that Nallur Saravanan made during his speech in the book-release function were demeaning the Hindu religion, people belonging to militant Hindu organizations agitated on the premises of Madras University. Students from the Ambedkar-Periyarite study circle organized a counter-agitation in support of Saravanan. Speaking in 'the conference for rescuing the Hindu temples', H Raja demanded that Prof Saravanan should be removed from his post.
What does the book say, after all?
"No Shiva Linga worship took place as such, in the Thiruperunthurai Avudayar Koil of Pudukkottai district. The customary flag staff is also not there in that temple. There is however a separate shrine for Manickavasagar, and only his idol is carried in processions in the 10-day annual festivals. Therefore, the Avudayar Koil temple was built only for the saint-preceptor, Guru Manickavasagar. No evidences can be found from historical records for claiming this to be a Shiva temple. This is a structure built only in the 13thcentury, and not in the 8th, as claimed. The temple of Shiva located nearby on the southern banks of river Vellaru is hailed as Adi Kailayam. This is the Thiruperunthurai temple that Manickavasagar has sung about and prayed to in his Thiruvasam."
This is what author Padmavathi has stated in her research work 'Manickavasagar–Kaalamum, Karuththum'. Also, the famous mythological story where foxes got turned into horses by divine will, (நரி-பரியான கதை) assumes a lot of significance in the life of Manickavasagar. Her views explaining the truth behind this legend have drawn controversy.
An article by Ma Rathnasabapathy on the foxes-to-horse story, K G Seshaiyar's research article on the period of Manickavasagar and the articles written by S Radhakrishnan Iyer asserting that Ayudayar Koil is nothing but Thiruperunthurai add strength to these arguments and have been given as annexures in the book.
"Some from the Hindutva groups are angry with the claim made in the 'Manickavasagar–Kaalamum, Karuththum' that Avudayar Koil is not a Shiva temple. This is a view expressed, based purely on research work, and we have no hidden agenda in this. I have also spoken on issues like saint Adi Shankara's religious beliefs being entirely contrary to Saiva Siddhantham (the Saivite ideology); and about the tussle between the Vedic religion and the Saiva religious philosophy, citing what Manickavasagar himself has said against the Vedic thoughts of Aryans. Further, I have also written in the editorial of the 'Siddhantham' issue that the learned brahmins and Adheenams, the religious heads of the mutts, should join the Saiva sect. The Hindutva groups have taken offence to these views of mine and have made representations to the Governor and the vice-chancellor of Madras University, asking for my dismissal from the university. They are also running a smear campaign against me. I was scheduled to speak in Tirunelveli Nellaiappar temple and also in Thiruvnmiyur Marundheeswarar temple, and those programmes have been cancelled due to pressure from these militant groups. I am also getting a lot of threats. I have moved the Madras high court against those who have abused me, and I am hoping that this issue will end at least with legal intervention", says Saravanan.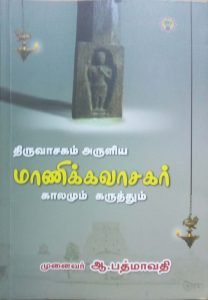 "I am the first one to do MA in Saiva Siddhantham and also obtain a Phd. I have worked in the Benaras Hindu university Bharaithiar chair; am giving lectures on Saiva Siddhantham for more than the past 25 years; and attending conferences and publishing research papers. While I am serving the cause of Saiva Siddhantham and propagating it through my speeches and writings, it pains me to find that the adheenams are absolutely silent even after seeing the sort of tirade that the Hindutva groups have unleashed against me. I have no intention of hurting anyone's sentiment. Instead of going by hear-says or believing what they want to believe in or blindly accepting mythological stories as gospel truths, people should take into account archaeological evidences and look at things objectively. They can definitely counter or refute our claims based on evidence, and they have all the right for that. At the same time, who has the right to stop me from airing my views, which are research-based?" he questions.
"History has seen from time immemorial the continuing phenomenon of arguments being challenged by counter-arguments. Debates and discussions have always remained part of the intellectual domain. Research-based opinions should however be refuted only by evidence-based arguments. The Arutpa- Marutpa controversy, concerning saint Vallalar's composition of Thiruvarutpa, that broke out between eminent people like Vallalar and Arumuga Navalar, reached even the doorsteps of the court. But today, people like Nallur Saravanan are stopped even from expressing their opinions, only because they are contrary to those held by some other people. What sort of a democracy is this?" he says.
Here is the explanation from Professor Saravanan, on the issue
Read in : தமிழ்