The government has decided to introduce biometrics-based attendance system for teachers serving in more than 7,700 high and middle schools in the state. Some welcome this move saying it will address the issue of absentee teachers in schools in remote corners such as...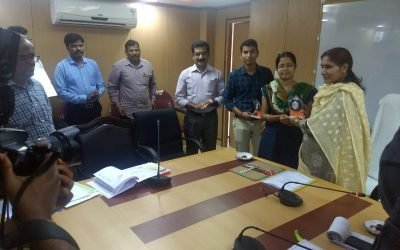 It is hard to imagine to imagine an unlikelier background for a young woman lawyer: born into a poor family, once forced to stop schooling to take up a tailoring job to support her family, now a proud standard bearer for her family, her village, and others like her....
The supplementary examination held in the months of September and October for 10th and 12th standards in Tamilnadu has been cancelled from the academic year 2019-20, Directorate of State Examination has announced. Starting next year, the...
The Tamilnadu government has issued a new order stating that only plus 2 marks will be taken into account for admission to colleges and pursuing education there. "Plus 1 common examination was conducted for the first time last March, and so there was lack of clarity...
Students in Tamil Nadu are fast losing interest in dental courses, just as it happened in the case of engineering colleges. When counseling ended this year, 30% of BDS seats were lying vacant in self-financing dental colleges. The application form for joining in both...
From the coming year, JEE Main examination will be conducted by National Testing Agency (NTA) instead of the Central Board of Secondary Education (CBSE), and in that, the question papers will be in the regional language of Gujarati apart from being in English and...
Moorthy's story is not different from many - he had to stop his school-education midway due to poverty and instead, work as a child labourer. But what made the difference was his perseverance and relentless efforts, which has ensured that he has now risen to the level...
The spate of engineering colleges that have come up all over the state; and people not getting employment even after spending a lot of money for completing their engineering studies - can be cited as the main reasons for many engineering seats lying vacant, say the...
The proposed Higher Education Commission of India (HECI) is constituted in place of the University Grants Commission (UGC) will encroach upon the rights of the states, feel some educationists voicing their opposition to the move. "Higher education was brought under...
After the first round of BE counselling, the number of students who chose the category "other courses" was more than 2,350 whereas those who chose perennial favourites like mechanical, ECE and computer science were far fewer. In subsequent rounds, however, the trinity...
At the end of this year's engineering counselling, the 239 engineering colleges in the state put together have admitted 30% of their sanctioned strength. A situation has arisen warranting the closure of more than 150 engineering colleges, in which student admission...
From this year onwards, teachers will be selected only through interviews for being eligible for national awards. The human resources development ministry has announced new guidelines in this regard. Further, the number of national awards for some of the finest...
After the fourth round of engineering counseling, some 1,15,390 seats have not been taken. For the fifth round of counseling, only some 26,000 students are remaining to participate. This would mean that at least 1 lakh seats would remain vacant this year. Some 36...
Arvind Gupta is a former student of IIT, Kanpur. After years of research and hi-tech work, his current passion is reaching science to young minds. He uses waste items like old newspapers, bottles, match sticks, threads and straws to produce simple...
Tamil Nadu government has decided to split the computer science subject that is taught in higher secondary schools in the state into three types. Computer technology is being introduced as a new subject for students of vocational stream. This change will be applicable...
Last year, the first year NEET was introduced, two students got admission from government schools in government medical colleges, while three got into private colleges under government quota. In 2016, when only Plus 2 marks were considered, 30 government school...
K.P. Akila has performed the feat of securing 92.3% marks in Civil Engineering in Tamil medium and has won the gold medal, studying the course in the well known Guindy Engineering College. She had studied in Tamil medium in  Dindivanam's Rosanai Thai Thamizh school,...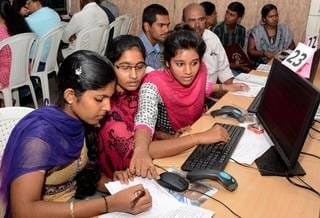 In the engineering online counselling for students who got cut-off of more than 190 marks, 3,431 students did not participate in the first round of counselling. But it is worth mentioning that despite these many seats remaining vacant, as many as 167 students did not...
At this Tamil-medium elementary school in Nellikuppam, Kancheepuram district run by the Tamil Nadu government, teacher S M Iyyappan considers English a foreign language. So much so that he teaches it in such a way that students learn to speak it like how...
Starting this year, vocational education is being introduced as an optional subject for the IX standard students. With a view of making the students obtain talent-related education along with their normal curriculum, this scheme is being introduced as an experimental...
The Government of Tamilnadu has issued an order cancelling the 'Weightage System' for the selection of candidates for the intermediate and graduate teacher vacancies in Government Schools. Accordingly, the Teacher Eligibility Test (TET) and the competitive examination...