Read in : தமிழ்
On May 15, Pope Francis canonized Blessed Devasahayam Pillai (1712 – 1752) from Tamil Nadu as saint at a grand event that started with the singing of the Mother Tamil song (Thamizh Thai Vaazhthu) in Vatican. Saint Devasahayam Pillai is the first lay Indian to be canonized as saint.
Manoj Thangaraj, TN minister who participated in the event, tweeted that the song brought honour to Tamil at Vatican Senji Mastan as well as Tamil Nadu Minorities Commission chairman Peter Alphonse attended the event. On June 5, the conferring of sainthood will be celebrated at Aralvaimozhi Katradi hills where Devasahayam Pillai was martyred.
Born Neelakanda Pillai in the year 1712 at Nattalam in Kanyakumari district, he converted to Christianity in the year 1745. Seven years later, he was paraded on a buffalo and was shot dead at Aralvaimozhi on Jan. 14, 1752. He was tortured for three years ahead of his execution on charges of treason.
The Tamil Nadu Bishop Council and the Conference of Catholic Bishops of India recommended his name for beatification to the Vatican in the year 2004. He was beatified by the Catholic Church on June 21, 2012 as Blessed Devasahayam Pillai. The Vatican recognized a miracle attributed to his intercession on Feb. 22, 2020, thus his name was cleared for canonization. Devasahayam will be declared a saint on May 15, 2022.
In due course of this process, there was a controversy when some Hindu outfits objected that there was no religious persecution in the erstwhile Travancore Kingdom. Devasahayam was, in fact, a palace official of the Travancore Kingdom and said to have had sufficient influence at the court of King Marthanda Varma. According to the Church, he was persecuted for practicing his faith and was martyred. Intriguingly, there are not many visible signs of religious persecution in the kingdom in those days. Syrian Catholics had been living in southern Kerala since the second century. Syrian Catholics trace their conversion to St Thomas who was one of the 12 disciples of Jesus.
Most of the saints from India are Europeans. Even in the case of Indians, they are ordained people. But Devasahayam was not a clergyman. His elevation to Sainthood means a lot to local people.
Christianity was not new to South India when the British or French arrived. St Francis Xavier had evangelized the fishing communities of Pearl Fishery coast that stretched from Tuticorin to Kanyakumari. The fishermen converted to Christianity by 1532 through the influence of the Portuguese. Even Judaism is not new to the Kerala coast. There was Jewish population in Kochi.
Breaking caste rules
Why did Devasahayam's conversion to Christianity trigger so much animosity in the palace? In a society that tolerated religious conversions, how this affluent court official was killed for practicing his faith?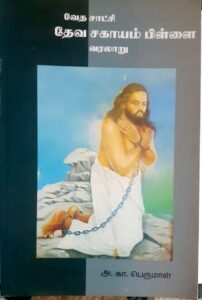 Inmathi talks to Prof A K Perumal, a folklorist from Kanyakumari and author of Vethasatchi Devasahayam Pillai Varalaru. Perumal was one of the pioneers to document Devasahayam's life.
Question: What prompted you to write the biography of Devasahayam Pillai?
Perumal: I worked as a lecturer in Aralvaimozhi where Devasahayam Pillai was martyred. I was the NSS coordinator and we used to carry out a lot of work around the place where he was shot dead. In course of time, I started collecting details about him. Though I started as early as 1975, I could publish the book only in 2004.
Question: How did you collect the details on his life? What are the materials referred to?
Perumal: There is not much historical evidence. But the folklore and ballads on Devasahayam are plenty. He is also sung in Vasagappa – a fusion of Portuguese and Tamil theatre – in the Christian community. Vasagappa is popular in Sri Lanka and the northern parts of Tamil Nadu. I also referred to a book published by Jesuit Missionaries from Pondicherry. The book was written in 1852 and was preserved in the Jesuit missionary house at Kodaikanal's Shenbaganoor.
Question: There is so much about conversion in our country today. Was converting to another faith a crime in erstwhile Travancore those days?
Perumal: I have my apprehensions. There are no shreds of evidence that Christians were persecuted. Syrian Christians were living in the kingdom for a long time. It was not a crime to convert from one faith to another. There were also Europeans who were practicing Christianity in Travancore in those days.
Question: Devasahayam was an affluent court official. How come an official like him converted to Christianity?
Perumal: Devasahayam was a court official and there was also another influential official in Marthanda Varma's court at that time. He was Eustachius De Lennoy, a Dutch captain, captured in the Colachel war but pardoned by the king. He was made commander of Travancore forces. Lennoy and Devasahayam got acquainted in the court and became good friends. Lennoy, a Catholic, introduced Devasahayam to Christianity. From the details I have collected, Devasahayam, who was Neelakanda Pillai at that time, had some personal problems. The new faith was a solace to him. He was baptized and took the name of Lazarus, which means Devasahayam (God's help) in the local language.
Question: If conversion to another faith was tolerated, why was Devasahayam treated badly? Why was there so much animosity towards him?
Perumal: The new faith taught him equality. As a court official, he was also involved in taking care of military supplies. He knew the commander of the forces, Lennoy. The immediate reason for such animosity against him was that he apparently made the military personnel dine together. The military had people from all communities. In a society where caste hierarchy dictated everyday life, such equal dining did not go well among the higher officials including Dewan Ramayyan Dalawa who hailed from upper castes.
Question: How are you so sure about this?
Perumal: Devasahayam was accused of treason. But the chargesheet available at Travancore State Manual accuses him of stealing teak wood. The reason sounds so trivial to persecute and condemn a palace official to death. As an author of his life story, I was called by the church to give testimony and I registered that Devasahayam was persecuted and killed for advocating caste equality. I don't see any other big reason for his capital punishment.
Question: If he was sentenced to death, why was Aralvaimozhi, a place far away from the capital, selected?
Perumal: It appears the initial intention was to exile him from the country. Aralvaimozhi was the border of the Travancore and Nayak kingdoms. We are not sure if King Marthanda Varma was aware of his capital punishment. In those days, even smaller officials decided the scale of punishment. The animosity which brewed among the high rung of officials after Devasahayam converted could have been a reason to get rid of him once and for all. But again, we don't have any historical evidence. Namboodiris were usually exiled but Devasahayam was a Nair. The usual form of capital punishment for Nairs was death by hanging and if in that case, why was he paraded till Aralvaimozhi is a question. Without much evidence, it is difficult to come to conclusions.
Question:  What happened to the opposition to his Sainthood?
Perumal: Some Hindu outfits voiced their protest but it fizzled out soon. There was some heartburn in the Nadar community which mistook Devasahayam as Vellalar because of his surname Pillai. This animosity between the two communities is really old.
Question: What is your opinion on the miracles attributed to Devasahayam?
Perumal: It is purely a matter of faith and I am nobody to comment on it. People believe that praying to Devasahayam will cure illness. There is also a belief that his intercession is powerful when the cows at the household are inflicted by ticks. The ticks vanish after praying to him. I have heard this from people including Hindus.
Question: How does Devasahayam's sainthood become significant?
Perumal: He is the first layman from the country to be canonized. Most of the saints from India are Europeans. Even in the case of Indians, they are ordained people. But Devasahayam was not a clergyman. Besides, elevation to sainthood would enable local people to construct a church for him. Churches can be built only for Saints. People venerate him and the spot where he was martyred has become a place of pilgrimage. There are more than 70 books on him including mine. There is also a Ph.D. thesis on Devasahayam. His elevation to Sainthood means a lot to local people.
Read in : தமிழ்